Information
Best Practices to QC Closed Captioning For Broadcast
By: Nathaniel Deshpande
Last Updated: July 2, 2023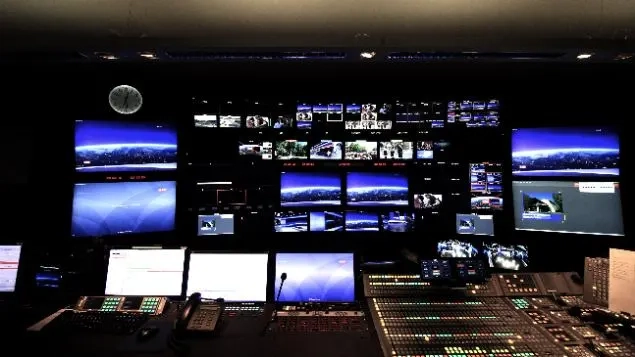 TL/DR
Closed captioning should pass both technical and content QC
Spot check QC will only catch simple issues related to caption-drift
Full content QC requires a dedicated closed caption editor and should be performed agencies and caption service providers.
Broadcasters should have a dedicated review workflow in place to verify closed captioning
Automatic QC solutions exist for closed captioning that can save a considerable amount of time
What is Closed Caption and Subtitle QC?
Closed caption QC in broadcast TV ensures content meets technical and regulatory standards for accessibility. It involves checking timing, dialogue sync, and accuracy. Closed captioning should be reviewed multiple times by multiple people prior to the broadcast. QC guarantees a seamless viewer experience across platforms and devices by addressing technical glitches and maintaining content integrity. Depending on your role, the QC process may look slightly different at each stage of the workflow.
Content vs. Technical Review
In order to guarantee accurate closed captioning and subtitles, we conduct two quality checks. The first check pertains to content, which verifies that the closed captioning accurately reflects the video and adheres to appropriate standards such as reading speed and characters per line. The second check involves validating the technical aspects of the closed captioning file. Broadcast closed captioning files often include more than just timing information, such as frame rate and clock source. Automating a technical quality check can assist in ensuring that the received files comply with system requirements.
Content checks are usually performed by the vendor, or agency creating the closed captioning. This is because content checks require specialized software such as a closed caption editor to identify and fix errors related to timing, and reading speed.
A technical review (or technical QC) should be done at each stage of the workflow whenever the closed caption file is being sent or received by a third-party system.
Closed Caption Spot Check vs. Full QC
When it comes to broadcasting television programs, there are two types of quality checks: full QC and spot check QC. Spot checks involve reviewing only specific segments, such as the beginning and end of a video, to ensure that the closed captioning remains accurate. However, this type of check does not assess whether the caption file adheres to style guide requirements. In contrast, a full QC involves watching the program in its entirety to verify file integrity and to check for any audio or video issues.
Typically, a quality control or ingest operator performs the QC workflow. However, if there are many files to ingest and many checks to complete, it can be challenging for an operator to ensure that the video, audio, and closed captioning meet proper standards.
This is why a full QC by the captioning service or agency creating the closed captioning is so important. Reviewing closed captioning requires operator time that many broadcasters are not willing to invest in.
Depending on your role, and QC process, you may require different tooling to affirm captioning requirements. For captioners, we recommend using a professional closed caption editor. For editors and producers, we recommend using video editing software with support for 608/708 closed captioning. For QC operators it is important to have access to a video player that supports both sidecar and embedded closed captioning.
Closed Caption and Subtitle Editors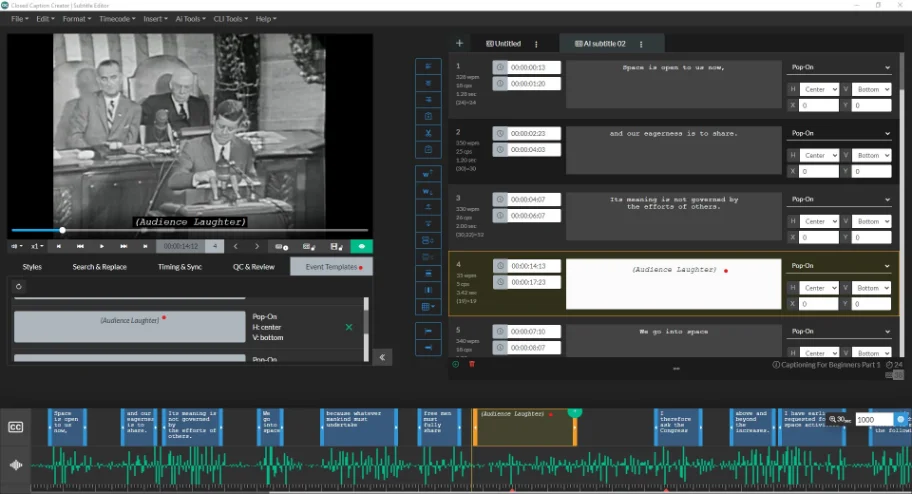 Professional closed caption editors often offer the option to customize captioning rules for specific projects. With Closed Caption Creator, users can create style guides to better evaluate their work. It's crucial to identify timing and formatting issues, which is why Closed Caption Creator can monitor the reading speed and sync of closed caption events to ensure they match the program audio. Automatic transcription software can also be used to verify the alignment of closed caption files. Spelling and grammar tools are also available to help identify grammatical errors in captions that may need to be corrected.
You can learn more about the top 5 closed caption editors we recommend for broadcast.
Video Editors
Newer versions of Premiere Pro and Davinci Resolve provide excellent support for closed captioning. Premiere Pro supports sidecar SCC captions and embedded closed captioning (608 and 708). Editors can confidently review closed captions in Premiere Pro and make necessary edits. Although it may be more challenging to find caption errors in Premiere Pro compared to a professional closed caption editor, it can still be achieved with sufficient diligence.
Video Players
If you are a broadcaster or QC operator looking to ensure the quality of video, audio, and closed captioning, we suggest using a premium video player like Telestream's Switch application. Switch supports several closed caption file formats, including embedded captions. Moreover, it can be configured to work with a baseband card to output to professional monitors. Alternatively, you could consider Drastic's QC suite, which offers a range of tools to review and QC broadcast video at an affordable price.
For broadcasters that can afford dedicated QC workstations, there are also tools like Accurate Video and GreyMeta's Iris Player.
Automatic QC & Closed Caption Validation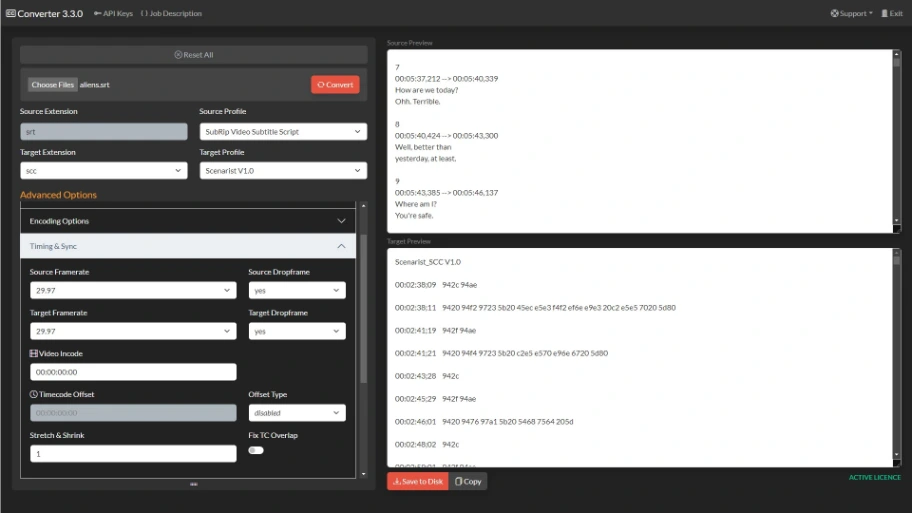 If you're part of a broadcast team that deals with a high volume of closed captioning, it's recommended to consider investing in an automated solution that can help identify and flag any issues with the closed caption files. Closed Caption Converter offers a specialized API that can perform closed caption validation and alignment checks. Originally designed for converting and conforming closed caption files, version 3.3 of Closed Caption Converter now features Automatic QC and file validation. Broadcasting professionals can utilize this API to conduct content and technical checks on files and even run alignment jobs using a proxy version of the media and the closed caption file. The results are provided in a clear JSON format for easy comprehension.
Conclusion
The article provides a comprehensive overview of the importance of quality control and review for broadcast stations and closed captioning services. It highlights the significance of reviewing captions not just for regulatory compliance but also for ensuring equal access to all viewers, including those with hearing impairments. The article stresses on the need for broadcasters to implement thorough review processes and leverage technology such as automated QC to enhance the quality and accessibility of their video content. By prioritizing these efforts, the industry can create a more inclusive and equitable media landscape that caters to the needs of all its viewers. In conclusion, it is evident that closed captioning plays a crucial role in ensuring that media content is accessible to everyone. With the help of technology and robust review processes, broadcasters can improve the accuracy and completeness of their captions and make their content more inclusive and accessible to all viewers. This is a step towards creating a more equitable society where everyone has equal opportunities to access information and entertainment.
---