Information
Top 5 Closed Caption Editors For Broadcast
By: Nathaniel Deshpande
Last Updated: July 15, 2023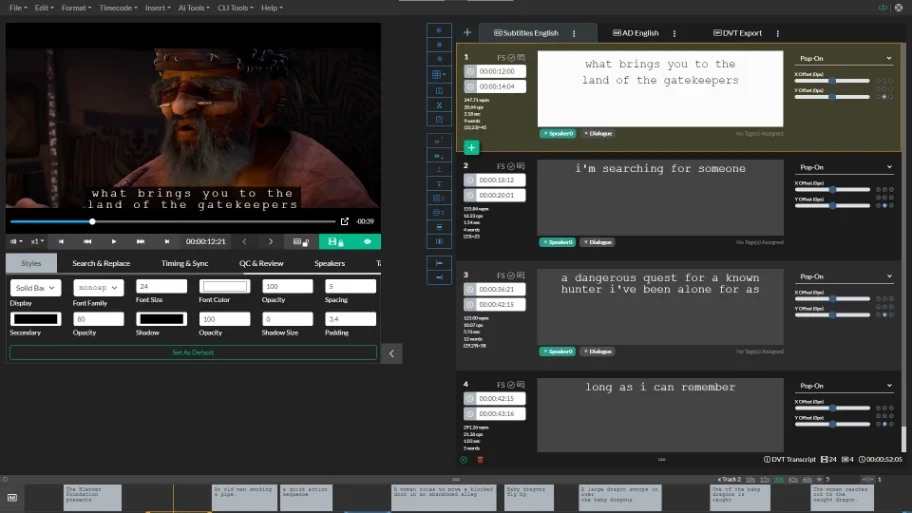 The Best Closed Caption & Subtitle Editors
Introduction
Broadcasters play a crucial role in ensuring accessibility for diverse audiences, and closed captioning and subtitles are essential tools to achieve this goal. To facilitate the creation of high-quality closed captions and subtitles, a range of editing software is available in the market. In this article, we will review some of the best closed caption and subtitle editors, including Closed Caption Creator, SubtitleEdit, EZTitles, Rev, CaptionMaker, and Premiere Pro. Each tool has its unique features and capabilities, making it essential for broadcasters to choose the one that best suits their needs.
Closed Captioning & Subtitle Editors for Broadcast
---
Closed Caption Creator
http://www.closedcaptioncreator.com/
Closed Caption Creator is a versatile and user-friendly editor available on multiple platforms, including Mac, Windows, and Linux. Its web version for Google Chrome offers added convenience. With support for over 30 different closed caption and subtitle formats, it is highly compatible with various broadcasting standards.
Key Features:
AI-powered automatic captioning and translation services
Optional plugins for generating audio descriptions and embedding closed captions
Custom style guides and QC reports for quality control
Local video import without the need for uploads
Affordable pricing for both individuals and teams
Subtitle Edit
https://www.nikse.dk/subtitleedit
Being an open-source tool, Subtitle Edit is a free option exclusively available for Windows users. While it supports various file formats, it may not be as user-friendly as some alternatives and lacks frame accuracy.
Key Features:
Support for multiple file formats
Ideal for basic editing tasks
Suitable for entry-level users or budget-conscious broadcasters
EZ Titles
https://www.eztitles.com/eztitles-subtitling-software
EZTitles, available only on Windows, is a powerful tool that supports various closed caption formats and container formats like MXF and MPEG. While it provides advanced capabilities, it might be relatively expensive for some broadcasters.
Key Features:
Perpetual license options for long-term usage
Integration with Dragon Dictation for added convenience
Exporting closed captions for DVD authoring
Japanese subtitle support
REV
Primarily known as a transcription service, Rev offers an editing feature that allows users to review and correct transcripts. However, it may not be the best choice for comprehensive closed captioning needs.
Key Features:
Simple user interface for basic use
Limited support for broadcast formats
Might not meet strict guidelines for platforms like Netflix or Amazon Prime
Expensive for large-scale content outsourcing
CaptionMaker
http://www.telestream.net/captioning/overview.htm
Available exclusively on Windows, CaptionMaker provides powerful features for closed captioning. However, it comes with some drawbacks, such as an outdated user interface and limited support and updates.
Key Features:
Speedy usage after mastering the learning curve
Lack of collaboration and team workflow support
Adobe Premiere Pro
https://www.adobe.com/ca/products/premiere.html
Adobe Premiere Pro offers a wide range of video editing capabilities, including the incorporation of closed captions and subtitles. It is a powerful tool, but may not be the most straightforward option for captioners to learn and use.
Key Features:
Automatic transcription included for free
Full control over styling and positioning of captions
Support for burning-in captions to video (open captions)
Subscription to Creative Cloud required
Conclusion
Choosing the right closed caption and subtitle editor is crucial for broadcasters seeking to enhance accessibility and comply with industry standards. Each editor reviewed here offers unique features and functionalities, catering to different needs and budgets. For beginners and budget-conscious users, Subtitle Edit and Rev may suffice for basic tasks. Meanwhile, Closed Caption Creator stands out with its platform compatibility, AI-powered features, and affordable pricing. EZTitles and CaptionMaker provide robust features for professional use, although the former may be cost-prohibitive for some. Lastly, Premiere Pro offers a video-centric solution for captioning, suitable for those willing to invest in Adobe's Creative Cloud subscription.
Ultimately, the best choice depends on individual requirements, technical expertise, and available budget, so broadcasters should carefully evaluate each option to find the ideal fit for their closed caption and subtitle editing needs.
---
Resources
Blog Article
Top 5 Closed Audio Description Editors for Broadcast
Read Now
Video Course
Closed Captioning For Beginners
Watch Now