How-To
Video Subtitle Translation for Broadcast
By: Nathaniel Deshpande
Last Updated: August 10, 2023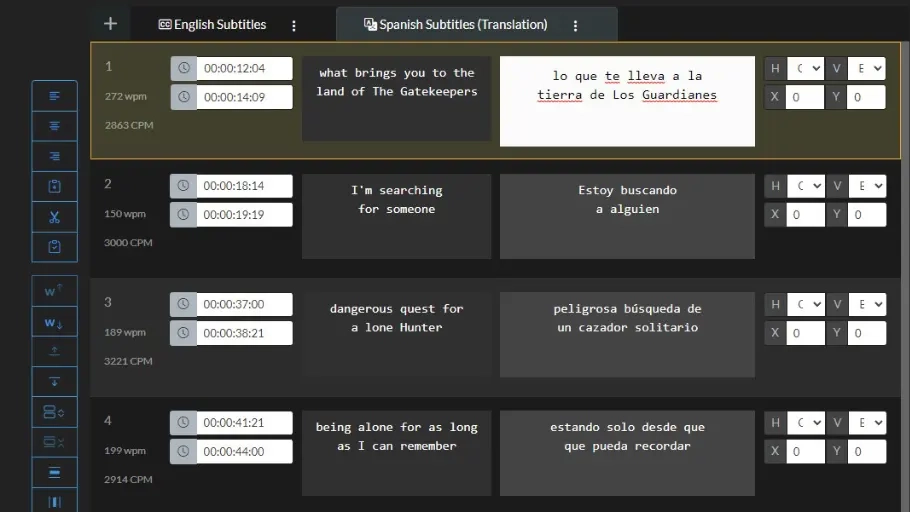 TL/DR
Closed Caption Creator can be used to translate subtitles and closed captioning
Machine translation can be used for translation and generating pivot languages
Localization requires a professional translator with a strong command of both source and target languages
Translations of key names and phrases of episodic content should be consistent between episodes, and seasons.
How to Translate Subtitle Files
Closed Caption Creator is a professional subtitle editor with a dedicated translation workspace. Translation of closed captioning and subtitles requires specialized tools. Closed Caption Creator supports both manual and machine translation. Users can also choose the workflow that works best for them. Closed Caption Creator supports synchronous translation (translation of completed work) and parallel translation (translation of incomplete work). Parallel translation involves being able to sync changes from the original language text at any time. By translating in parallel, projects can be completed in less time and offers better workflow flexibility.
Closed Caption Translation vs. Localization
Before starting a translation, it is important to understand whether your task is translation or localization. Translation involves converting spoken or written content from one language to another while maintaining meaning. In the context of closed captioning and video, it means changing dialogue audio into text of another language for broader audience reach.
Localization goes further by adapting content for cultural and regional nuances. It not only translates words but adjusts for idioms, cultural references, and more. In closed captioning and video, localization ensures captions/subtitles fit the target audience's cultural norms and understanding, altering expressions and references to match their context.
In essence, translation deals with converting words, while localization considers cultural and contextual factors, making content resonate with the audience as if originally created for them.
AI Translation vs. Manual Translation
Can AI surpass humans in translation? Possibly. However, when it comes to localization, an experienced audiovisual translator with strong command of both the source and target languages is recommended. In cases where a translator may not be available for the required language pair, machine translation can be used to generate pivot languages. Pivot languages act as intermediaries, allowing the text to be first translated from the source language to the pivot language, and then from the pivot language to the target language.
Over the past few years, Machine Translation has evolved and become better known as Neural Machine Translation (NMT). NMT takes context into account, resulting in more accurate translations of text.
Closed Caption Creator allows users to easily generate multilingual subtitles in just a few clicks using NMT services by Google, DeepL, and ModernMT. NMT continues to improve every year, and the tools from DeepL and ModernMT have surpassed Google.
Once translated subtitles have been created by AI, they can be edited by a translator for better accuracy and context. This is the ideal workflow when it comes to translation and localization for broadcast.
Automatic Translation may not be perfect, but it does provide a high-quality boost to get started.
Key Names and Phrases (KNP)
One of the most important aspects of closed caption translation is consistency. Key names and phrases should be translated the same for episodic content of a series or show. Using KNP document can aid in your translations. This may involve additional work to maintain an updated and precise document that easily searchable by one or more translators.
Parallel Translation of Captions and Subtitles
When working on a translation of a work-in-progress it's important to be able to sync new subtitle events, and timings from the original language. Closed Caption Creator makes this possible by being able to "Sync" changes from the original source Event Group. Simply go to the Event Group options and select "Sync From Linked Group".
Multilingual Subtitles Review
Before you deliver subtitles to a broadcaster, it may be important to review them using other software tools. Closed Caption Creator makes it easy to export translations in multiple file formats including Microsoft Word, Excel, and Plaintext. External files can also be re-imported with changes. Excel especially makes it easy to review multiple languages at one time.
Conclusion
Subtitle translation is not a simple task. It requires professional translators who can understand both the language and subtitle guidelines. Closed Caption Creator can help simplify the creation of multilingual subtitles for global audiences, but it does not complete the task alone. Translators are a cornerstone to the translation and localization workflow.
In order maximum the ROi of video content, it is important to reach a global audience. Subtitles in multiple languages can help do this. Captions and subtitles help boost engagement and comprehension. By adding closed captioning to your videos, you not only meet accessibility requirements but can also extend your global reach.
Technology such as Closed Caption Creator can help in the translation process, especially of timed-text date. Translate your subtitles files today using Closed Caption Creator Pro.
---
Resources
Blog Article
Top 5 Closed Caption Editors for Broadcast
Read Now
Video Course
Closed Captioning For Beginners
Watch Now
Solution
Translation & Localization Overview
Learn More