Automatic & Manual QC
Find & fix issues fast
Automatic and manual review tools help to ensure there are no issues after you click Export.
Start a Free Trial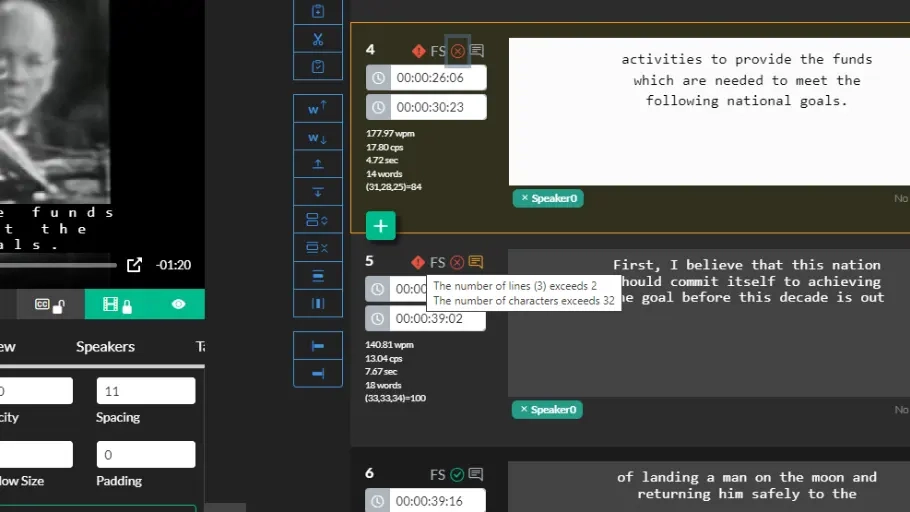 Custom alerts help identify errors in real-time
Realtime Error Detection (RED) alerts can be customized by the user to display notifications relating to illegal characters, maximum reading rate, min/max duration, maximum character lengths, and maximum line lengths.
Style Guides ensure your project meets technical requirements
Custom Style Guides can be set up and configured to flag both technical and content issues when reviewing captions. QC Reports can also be generated based on Style Guides and exported for viewing in Microsoft Excel.
Fix multiple errors at once using our Automatic Correction Tools
Batch editing, and automation tools such as Automatic Formatting and Automatic Timing Correction can save users hours by fixing tedious issues that are easily handled by software. For example, you can set a maximum reading rate, and our system will automatically correct any caption Events that are out of spec.
Share projects with guest users, such as clients, to help streamline Review & Approval workflows
Take advantage of Team Projects to share and work collaboratively with other users at the same time. Clients are able to view and make non-destructive edits that can later be incorporated into a final version.
Communicate with other members of your team using custom tags, notes, and approval checkboxes.
Custom metadata such as tags, and notescan be incredibly useful when working in a team environment. Pass/fail approval checkboxes make it easy to view which Events need work, and which ones have passed review.
Video Tutorials
Realtime Error Detection
In this video we learn how to set up and configure Realtime Error Detection to help identify issues when captioning. Realtime Error Detection provides a visual indication next to a caption Event where an issue has been found.
QC Style Guides
In this video we learn about custom Style Guides and how they can be used to identify caption issues. Style Guides are a powerful tool for project managers, team leads, and anyone else who needs to quickly review closed captioning.